Tickets for the Prenetics Royal International Horse Show are on sale now.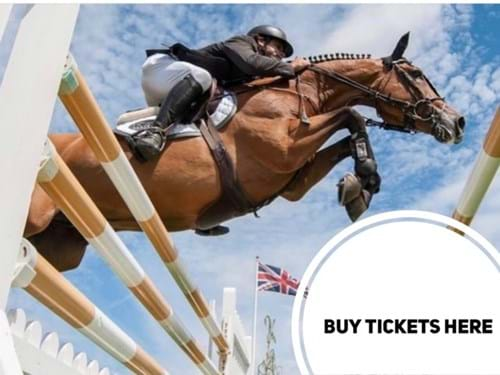 It's been two years since we last saw crowds at Hickstead, and we can't wait to welcome you back! Tickets for the show (20-25 July) are on sale now, costing just £15 per person with concessions available and under 16s going free. You will be able to book tickets at the gate, but you are advised to book online whenever possible to avoid queues on arrival. 
This year the show is running in a slightly different format to usual, hence the substantial drop in ticket price for this year only. The showjumping is running as a two-star international competition, and a strong line-up of British-based riders will be in action, including Guy Williams, Harriet Biddick, Trevor Breen, James and Robert Whitaker, and Pippa Funnell.
Feature classes include the Prenetics Royal International Vase, and the £24,000 Science Supplements BHS Queen Elizabeth II Cup, which moves from its traditional Saturday slot to form Sunday's grand finale. 
There will be a full programme of championship showing classes, culminating in Sunday's British Horse Society Supreme Horse and the Supreme Products Supreme Pony finals, plus carriage driving classes including the popular Osborne Refrigerators Double Harness Scurry class.
There will be around 60 tradestands on site, giving crowds the perfect opportunity to do some shopping in between watching the country's best riders compete at one of the most famous equestrian venues of all.
A range of bars, restaurants and eateries will be available, with hospitality options bookable in advance, plus a children's funfair will be on site to entertain younger visitors. There's plenty of room to roam around our 120-acre site and browse the shops, making it a perfect option for people who are making their return to large scale events. 
Click here for our Box Office.  
Daily highlights
Wednesday 21 July - BS Winter Finals, M&Ms, Arabs, Hackneys, SHPs
Thursday 22 July -  Al Shira'aa young horse Finals, M&Ms, Hunters
Friday 23 July - The RIHS Sussex Stakes and the Prenetics July Stakes (CSI2*), working hunters 
Saturday 24 July - The RIHS Southdown Stakes and the Prenetics Castle Stakes (CSI2*), miniature horses, hacks 
Sunday 25 July - Science Supplements BHS Queen Elizabeth II Cup, The Prenetics Royal International Vase (CSI2*), cobs, show ponies, British Horse Society Supreme Ridden Horse and Supreme Products Supreme Pony Championships        
Click here for a list of former winners 
Click here for our livestream (Wednesday to Sunday)