1. William Whitaker winning the Equestrian.com Derby. Having come third in 2014 and second in 2015, he finally nailed it this year to come first with Glenavadra Brilliant. This Irish-bred gelding left every fence standing to finish with just one time fault, and William became the third member of the Whitaker dynasty to get his name on the Boomerang Trophy.
2. William's children joining their Dad for the press conference – his young son Oliver sat on his Dad's knee and tried to prise the microphone off William while he fielded questions from the press. Another Derby winner of the future? We don't doubt it.
3. The entire Equestrian.com Derby was a cracker. There was a strong start with Richard Howley's four-fault round, while William's one-time penalty round, two-thirds of the way through the class, meant the competition stayed exciting right to the very end, with the door open for someone to go clear and take the title. Then there was a host of former Derby winners in the field, some brilliant debuts (including Luca Maria Moneta, best of the first timers in fifth) and some edge of your seat moments – including that Derby bank descent by Esib Power. Watch the entire class again on catch up. 
4. Talking of Esib, what a round on Doonaveeragh O One. Originally an event horse, he then went pure showjumping with Esib's brother Robbie, a Grand National winning jockey. Robbie and 'Tommy' came third in the Amlin Plus Eventing Grand Prix in 2012 and won the British Speed Derby in 2013, before finishing 16th in the Equestrian.com Derby two years ago. This year he and Esib jumped an inspired round to finish on 12 faults for 10th place, with Esib tweeting: "Massive thrill over the biggest thing I will ever jump. Owe it all to the coolest horse ever – Tommy."
5. In fact, it was a good show for eventers in general. Sharon Hunt – winner of last year's Douglas Bunn 1.35m Memorial Challenge at the All England Jumping Championships – had a great round in the Speed Derby, finishing 9th with HSB Harriet. These event riders are increasingly giving the showjumpers a run for their money.
6. Harriet Nuttall was becoming known as the Hickstead bridesmaid, after finishing runner up in no fewer than FOUR major classes at last year's Derby Meeting. But this year she finally claimed the British Speed Derby with Silver Lift, and not only that but she came second too with Highland Cruiser. She was also super unlucky not to win the Equestrian.com Derby after a brilliant round with A Touch Imperious, with the last fence falling to leave them in second place. Next year she could easily come back and do the double.
7. David Simpson's win in the Bunn Leisure Derby Trial with the grey Gotti Van Paemel. A beautiful horse and a lovely rider – we were all smitten. "It's really nice to win a class here, actually – usually it's Louise who wins," he said afterwards, referring to his fiancée and the mother of his children, Louise Pavitt.
8. We had a visit from Mattie Batchelor of Wocket Woy fame. He gave Tim Stockdale riding advice, he interviewed 'Twevor Bween' and he raided the Equestrian.com stand for a new showjumping outfit. After returning to the showground on Sunday, he had a go at the Celebrity Scurry and asked William Whitaker a question at the post-Derby press conference. At the time of writing this, nearly 300,000 people have watched the first of his videos from Hickstead. We can't wait to see this week's episode!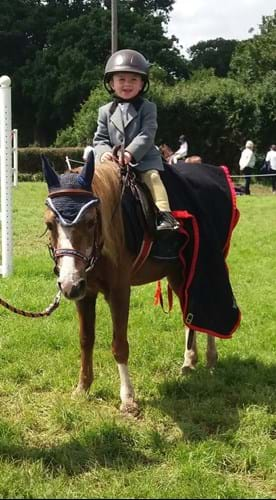 9. This pair (above), who competed in the Hickstead Mini Challenge. Sonny Murrell, 2, came seventh with his pony Miss Musette, who is an incredible 41 years old! Is this the youngest Hickstead competitor ever on the oldest pony?
10. Our livestream at Hickstead.tv. We streamed the action from the International Arena from Thursday onwards, which meant all our feature classes could be watched from anywhere in the world. We also streamed some of the showing classes that had their finales in the main arena for the first time – and will be doing so again at next month's Longines Royal International Horse Show.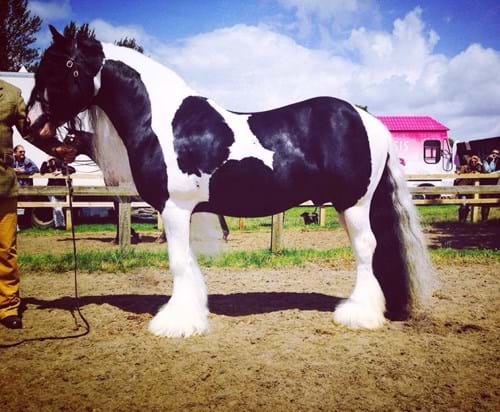 11. We survived the mud. While some days were blissfully warm and sunny, others we were hit with downpours and even thunder and lightning. The car and lorry parks got exceedingly muddy but everyone worked through the night to keep things operational and ensure we didn't have to cancel the show. And it was still a great show, despite all the challenges. The International Arena - which was completely renovated in 2011 to make it into an all-weather arena with a grass surface on top - held out brilliantly, still looking great after four busy days of jumping. Plus if you've ever doubted the perseverance and perfectionism of those in the horse world, check out this immaculate cob (above) just before he won the reserve champion rosette in the CHAPS in-hand final - look at those Persil-white feathers! Mud, what mud?
12. We had some very special celebrity visitors, including a certain Top Gear presenter. Matt LeBlanc – hope you join us again next year, and maybe next time you'll bring along your Friends too.