Meet the trainer
Last summer William became the third member of his famous family to lift the Boomerang Trophy, after his uncles John and Michael. His win came on the chestnut Irish Sports Horse gelding, Glenavadra Brilliant. 
Meet the rider
Harriet Upton, 21, is an event rider based in West Sussex. She represented Great Britain at the Junior European Championships in 2014, and has competed up to two-star level.
Meet the horse
Arabella II is a nine-year-old mare by Up With The Lark. She has competed up to intermediate level in eventing, but Harriet has now made the decision to concentrate on showjumping with her, and they have been jumping up to 1.30m level. Harriet says: "She's quite a big mare but she can be a bit of a tank, especially when landing after a fence. Her jumping technique is good behind but she can be a bit loose in front."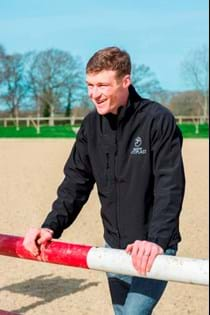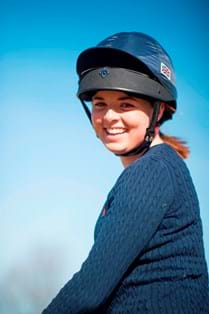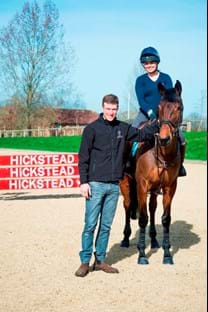 The lesson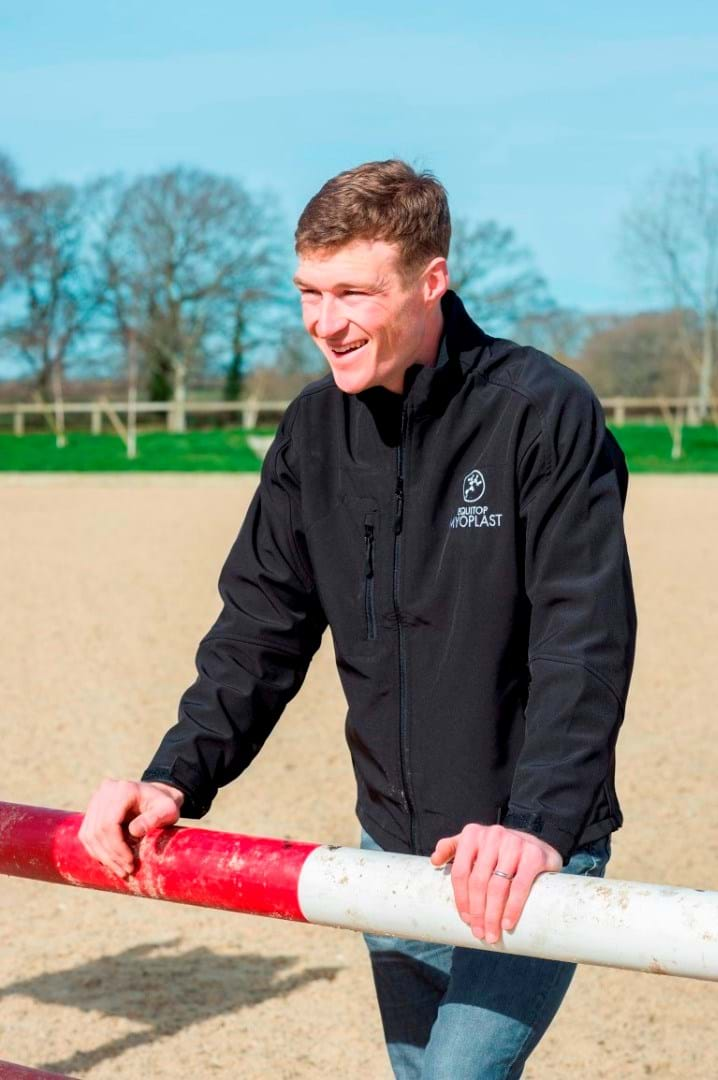 Pole position
Once Harriet has warmed up her mare, William sets up a single trotting pole and asks her to ride over it in both directions. "I like to use a lot of polework because it gives a horse something to think about when starting a training session," says William. "The horse normally approaches a pole in the same way it would a fence, so you can sort out any issues at this stage before you start jumping. Sometimes if you go straight from flatwork to jumping, horses can get excited and make mistakes. It is a good way of working through any freshness and getting them to relax before you start riding over fences." Another benefit to pole work is that you can keep sessions shorter, without having to do too much jumping. "You don't want a horse to have to keep jumping and jumping – each session you want to do the minimum amount of work needed," says William.
He asks Harriet to approach the pole in trot, keeping things as relaxed as possible. "Keep yourself straight and don't try to help her too much," he adds. Arabella trots calmly over the pole in both directions, so William adds more poles to create a line of four and the pair work over the poles in trot and canter on both reins.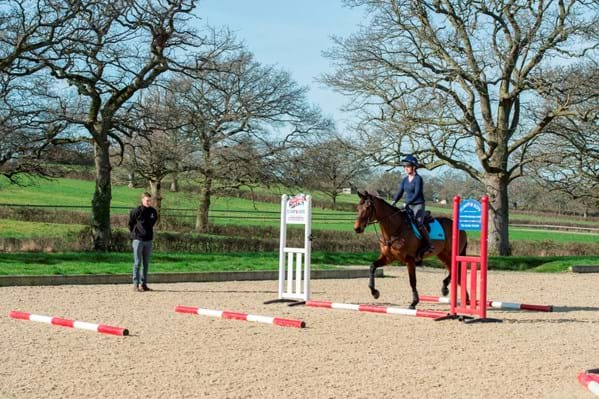 Starting to jump
Next, William builds a small fence, no more than 1ft high, with a ground pole in front and behind. He asks Harriet to ride a lap of the large arena in a nice, positive jumping canter before coming down over the fence. "As you approach the jump, don't change anything, just treat the jump as a part of that nice big canter," he says.
Arabella makes easy work of the fence, but lands on the wrong leg and becomes a bit argumentative afterwards. "If you lose a bit of control after the fence, the best thing to do is bring her straight back to trot and ride a trot circle until she's relaxed again. The second time you jump, you may need to come back to trot for half a circle; the third time you may not need to do any trot at all. If you keep doing this, soon she'll start waiting for you instead of getting strong on landing, and you'll be able to bring her back with just a half-halt."
Harriet explains that, in the warm-up, Arabella can sometimes land on the wrong lead and then get unsettled when asked to do a flying change. "You're already nervous because you're about to go in the ring, and if you're worrying about getting your changes right then you'll both become more tense. The exercise of bringing her back to trot is also useful to do in the warm-up, if your horse is getting strong or landing on the wrong leg, don't be afraid to keep bringing her back to trot afterwards until she's more settled."
As they continue to canter round the arena and down over the small jump, William advises Harriet to look at the fence for a stride from the top of the arena, then keep a rhythm and don't change anything on the approach. He adds another pole to the fence but keeps it under 2ft in height. "At this point we don't want any pressure, you want to keep the mare nice and quiet," he says.
On course
William doesn't like to spend too much time working over single fences, so he soon progresses to jumping a sequence of fences. "I do as little as possible of jumping single jumps, because essentially when we're in the ring we're going to be jumping courses and you need to train for that at home. Also, horses can get complacent about jumping the same jump multiple times."
He sets up three fences – the small upright, a right turn to another upright across the diagonal, then a left turn to an oxer. "In an ideal world, you want to be able to jump round a course without changing your rhythm at all," says William. "Don't tense up, and sit quieter as you approach each fence, there's no need to increase anything on the approach."
As they go round the course, William notices Arabella is landing a little bit open. "In training, aim to keep her close to each fence. She has to learn to make the right shape herself, as you can't set her up perfectly for every fence. If you keep her short in training, then in the ring you can ride her a bit more open and she'll appreciate it. Experiment at home with different canters, but avoid doing too much of a big, loose canter, when she's on a looser rein and you're often jumping off a long stride, as everything will end up too long and too strong."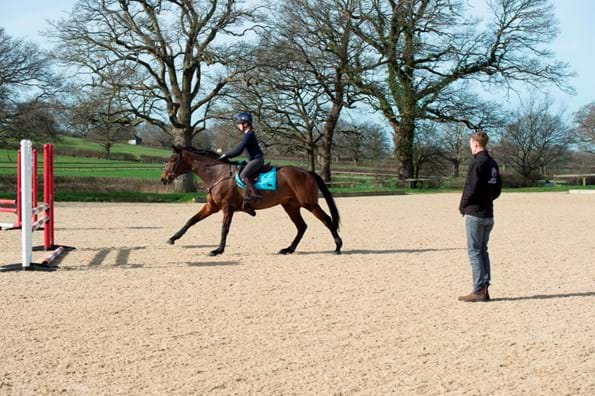 Doing the double
Next, he adds another line of jumps to the short course – a one-stride double of an upright to an oxer, then a canter down to the Hickstead planks on an unrelated distance. "You want to be able to jump the double without losing any control down to the planks," says William. "It's the same idea as before, if she gets strong in between the two jumps, bring her back into trot."
After jumping round once, William puts up all the fences to around 1m-1.10m, to encourage the mare to use a bit more scope and the pair jump round again.
"That was better," praises William. "The first time your canter was a bit loose and she went off a few long strides and got strong afterwards. This time you kept her closer to her fences and she made a better shape – and she also stayed in control."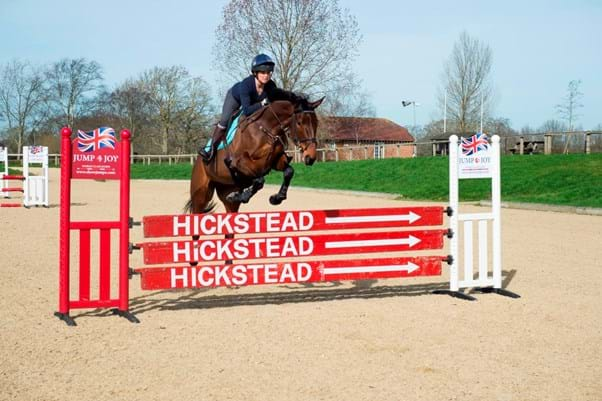 A matter of timing
Having jumped round the course a couple of times, William asks Harriet to ride round one final time – but this time to treat it as if the allowed time was a little bit tighter. "Don't change your rhythm, but just keep your lines shorter and take less strides between fences."
Now she's really relaxed and concentrating, Arabella jumps round well but she knocks down one element of the double, so William tells Harriet to ride that line again. "I thought that was good," he says. "The first time she had a little touch on the double but that would have helped her – the next time she jumped it very carefully."
He tells Harriet that her mare has a good canter and is lovely to watch over a fence. "Just make sure you stay relaxed and let her do the jumping," he reminds her. "It's very important for riders to be able to learn to relax in the ring. Keep your reins short and stay in a good rhythm, as otherwise when a horse gets strong in the arena the rider's reaction is to tense up and brace through the body and hands, which makes things worse."
Look out for more training advice from William in the run up to the Al Shira'aa Hickstead Derby Meeting (22-25 June).
William Whitaker is supported by Equitop Myoplast.